Award-winning entrepreneur and Big Business Events Founder  Adam Stott, accompanied by Head Coach Ross Temple and Coach Phil Elder ran Masterclass sessions relating to Marketing, Sales, and Mindset at the biggest business expo in the world, The Business Show. Adam has helped thousands of business owners scale their businesses to seven figures and beyond whilst overcoming stress, overwhelm, and procrastination – some of the biggest killers of business success.
Adam was also a keynote speaker at this event, where he shared his Ultimate Business Model strategy focusing on the 5 pillars of business growth: Marketing, Sales, Strategy, and Branding.
Adam was also kindly welcomed as a guest on the IRIS Pod for IRIS Audio Tech, where he joined Tom Darnell, the chief operating officer at IRIS Audio Tech they discussed Adam's experiences of building a multi-million-pound business from scratch (Check out the episode here)
Across the two days of The Business Show, the BBE met some incredible people including Piers Linney, CEO of Moblox Ltd, Piers is most known as a former Dragon on Dragons Den and appeared on Channel 4's The secret millionaire. He has a professional background as a qualified lawyer in venture capital and M&A investment banking at Credit Suisse and was a non-executive director of the UK government's development bank, British Business Bank during the roll-out of the £90bn Covid-19 business support loan schemes.
While at the Business Show he shared an insight on how to leverage technology to grow your business.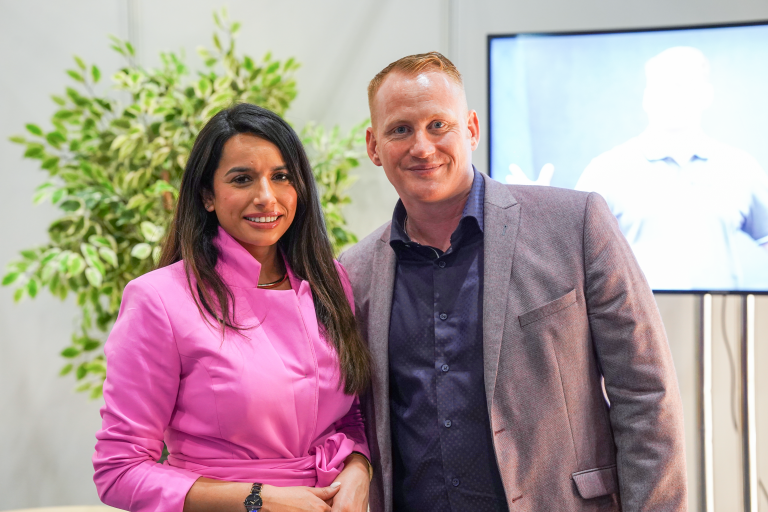 The two days were full of interesting Masterclasses, from Marketing how-tos with Sleeping Giant Media, one of the biggest Marketing agencies in the UK, to navigating your export journey with Santander one of the most recognisable banks in the world. 
…and of course, the Big Business Events masterclass where we went through starting, scaling and growing the business of your dreams.
Harpreet Kaur, the most recent Apprentice winner also attended the Business show as a keynote speaker, where she spoke about how to grow your small business – with one or two anecdotes about what it is like to work with Lord Alan Sugar with her business Oh So Yum. Harpreet joined Adam in our Masterclass room to record an episode  for his Business Growth Secrets Podcast (listen here),
Mikey Pearce was also there as a keynote speaker, the ex-YouTuber was there sharing his success story, as he went from YouTuber collaborating with the likes of Joe Sugg and Connor Maynard to now becoming an entrepreneur. During COVID-19 Mikey founded Clean Kitchen Club alongside business partner Verity Bowditch, he started it as he wanted to make some lifestyle changes both to his physical and mental health, so he wanted to find a way to make plant-based food delicious.
The Business Show has 750 exhibitors, 350 speakers and is visited by over 30,000 business professionals, some of whom had some incredible business concepts that we look forward to seeing take off! Everyone at Big Business Events had a great time and looks forward to the next one!
Learn How Business Owners
And Entrepreneurs Can Use A 4-Step Process To Get More Leads, Clients, And
Sales From Social Media Without Wasting Money.